12/07/2021 / By News Editors
---
The My Verizon App has been accused of secretly collecting a user's browser information, tracking apps, location, and contacts, for the purposes of understanding user interests. The mobile network provider appears to be automatically enrolling users in the data collection feature.
(Article by Ken Macon republished from ReclaimTheNet.org)
Input was first to report about Verizon's "Custom Experience" feature that is concealed in the My Verizon app. There is also the "Custom Experience Plus" feature that is more invasive in data collection.
According to Verizon, the purposes of these features are to "personalize" users' experience and "give you more relevant product and service recommendations" through the "information about websites you visit and apps you use on your mobile device."
The company further states that a user "must opt in to participate and you can change your choice at any time." However, it appears users are automatically enrolled.
Input's Andrew Paul learned about the features by accidentally opening a promotional email from Verizon describing the program.
Emma Roth from The Verge claims she checked her phone and found that both "Custom Experience" and "Custom Experience Plus" had been turned on and she does not remember choosing to opt in.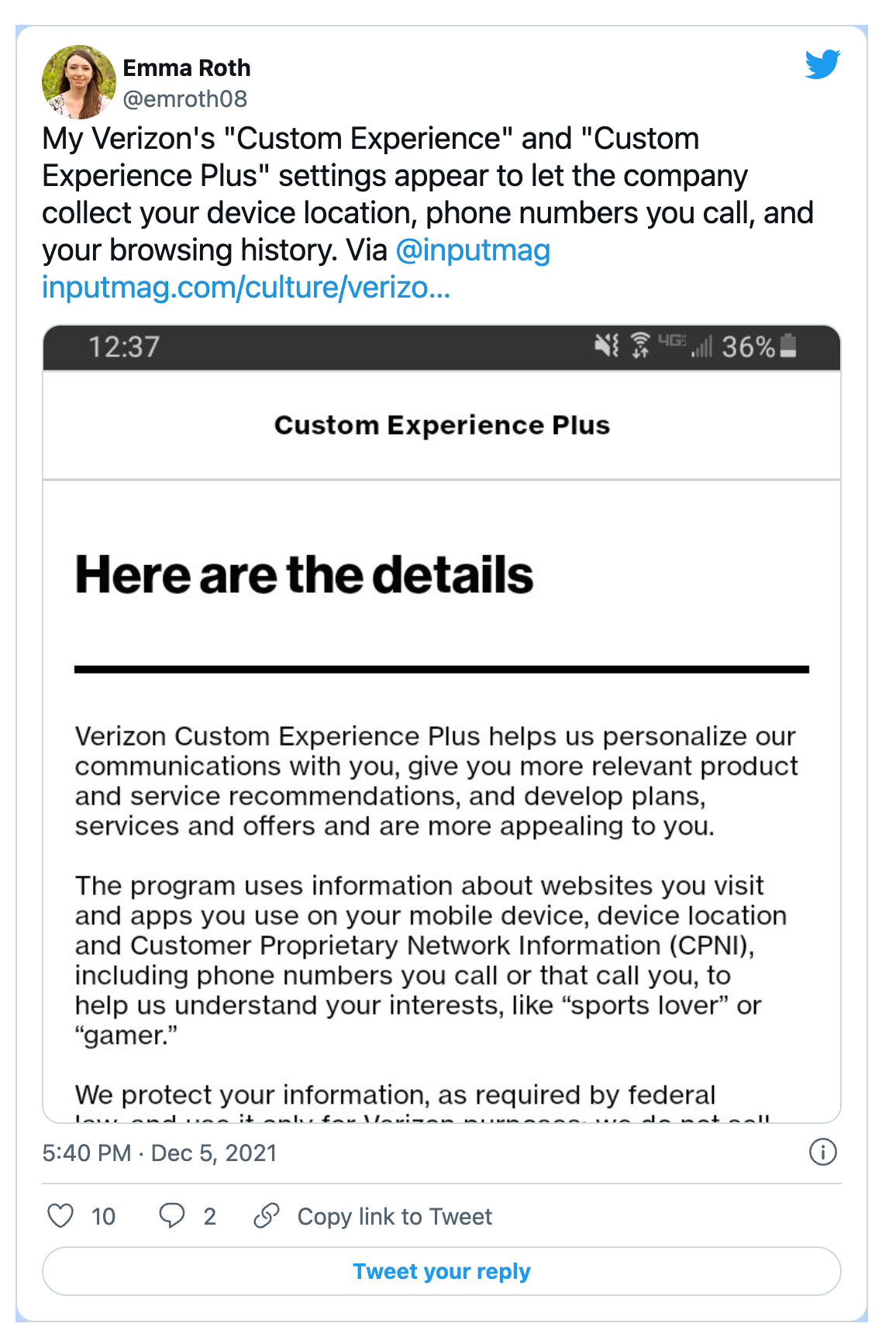 To opt-out of Custom Experience, open My Verizon, go to Settings (the gear icon at the top-right corner), scroll down to "Manage privacy settings," then turn off "Custom Experience" and "Custom Experience Plus."
In "Custom Experience Settings" you can select the "reset" option to erase the data that Verizon has collected.
The company claims it does not sell the data and uses it "only for Verizon purposes."
Read more at: ReclaimTheNet.org
Submit a correction >>